Try the Total Contact Saddle (at the same time as trying bitless and bareback !)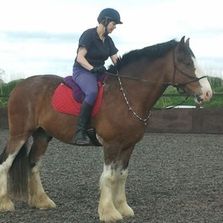 Try the Total Contact Saddle (at the same time as trying bitless and bareback !)
Dawn Cox has been a Total Contact Saddle (TCS) client for some time and, as you can see from the photo, she rides it with her Shire called 'Ollie'. Dawn is offering a range of services which now include trying the TCS. If you choose you can also find out about bitless riding and try bareback with Ollie (the Gentle Giant) but you don't have to. Dawn is centrally located in the heart of England ten mins from J26 of the M1. If you do try the TCS with her she'll also be able to provide you with a Client Discount so that you can purchase your own - that's got to be a result eh !!
We often get asked about trying the TCS - and understand why folk would want to do that - so this great service can now sit alongside our longer saddle trial which is for one week (see icon on this shop page). Dawn and her range of services can be found at https://angelhorse.co.uk/ so why not get in contact with her and see the benefits of the TCS for yourself at the same time as maybe trying her other services as well. EDIT: Dawn has now made a special page on her website to promote this service so please click on https://angelhorse.co.uk/total-contact-trial?fbclid=IwAR3W4cw5JHmWDoBRDtxe-WivKhCWAk1haKjfzInFIv_dySM2Xkyqdee1Byo to access the full info :-)
p.s. Chiron Horse has been a fan of her Rhythm Beads for about six years now and he always wears them when we're out riding or doing in-hand work in the school. Dawn makes these to order or 'off-the-shelf' so see about getting some of these for your horse !
The trial session described her must be booked with Dawn Cox direct and TCS has no direct responsibility for each session and it's outcomes which MUST be discussed with Dawn in advance.